Extracts from the pamphlet I wrote about the migrant crisis (see 'Books') have been published as 'The View from Mount Eryx' in the the PN Review. I wrote an essay for Review 31 on the same theme, which is also a review of Peter Mason's 'The Ways of the World'.
I've written extensively about the Marine Protected Area in Lyme Bay and its wider implications for marine protection in English waters. Here are four articles on the subject from the Ecologist, from 2013, 2014, 2015 and 2017. The Paradoxal Compass, about the longer history of the West Country's relationship with the sea and marine conservation's place in that story, is out with Notting Hill Editions this June.
OUR SEA NEEDS OUR SAY can now be viewed on line, courtesy of Dorset Eye. I interview Philip Hoare, Callum Roberts and George Monbiot about marine conservation on stage at the Electric Palace in Bridport. The first part is here and the second part is here
Horatio Morpurgo's literary essays and his reportage on the environment and on Central / East European affairs have appeared in many magazines and journals, as well as online. His essays have appeared in The London Magazine, The Edinburgh Review, Le Monde Diplomatique, Areté, New Internationalist and elsewhere. He studied at the Universities of Cambridge and Edinburgh and now lives in the South West of England.
Lady Chatterley's Defendant & Other Awkward Customers is Horatio's first essay collection, gathering in one volume his reflections on contemporary Europe, the environment and writers as diverse and valuable (all of them) as Paul Goodman, Mary Midgley, Ted Hughes, Samuel Butler, Terry Eagleton and Thomas Hardy.
The whole collection has a freshness and a surprisingness which are a delight… I hope lots of people will read this book – for its vigour as well as its vision.
Ronald Blythe
See the Books page for more detail.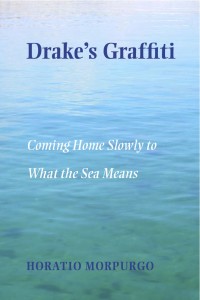 The author was part of the successful campaign to establish a marine reserve in Lyme Bay. The first such protected area of significant size in English waters, it has permanently closed sixty square miles of seabed to the scallop-dredgers. This book, based on a talk Morpurgo gave recently, is part memoir, part updated guide to the West Country's long and continuing relationship with the sea. The Elizabethan Age of Discovery, the crucial part played by the sea in the development of Darwin's theory, its role in the present-day study of climate: Morpurgo follows the thread which connects all of these and more.
An updated edition of 'Drake's Graffiti' is now available from Bridport Books.
Horatio's previous work, How Thomas Hardy Expressed His Doubt – some reflections on Weymouth's Olympic Road and the resulting destruction of Bincombe Down is a lengthy essay published in book form. It is available at Waterstones in Dorchester. Excerpts from this book have been posted on the Woodland Trust website – you can read them here.
Buy How Thomas Hardy Expressed His Doubt
Order the book now (UK – £5)
Order the book now (non-EU – £7)
or
Drake's Graffiti
Order the book now (UK – £6.50)